Forgiving The Most Obvious Person Ever...
One of the hardest things in the world to do is forgive someone. I, personally, have a hard time not holding a grudge. Take my husband for example: I'm one of those people who will bring something up from five years ago if it makes my point in an argument, "Do you remember when blah blah blah blah…"
Yeah, it's not the healthiest way to be lol.
But there is another person we have to forgive… and this person is one of the hardest people ever to forgive.
Not the person who broke your heart…
Not the guy who broke into your house…
Not the girl who taunted you in high school…
Nope, the hardest person to forgive is

yourself.
Have you ever tried to forgive yourself for something… even something minor? It takes a small act of Congress to convince yourself that whatever it is isn't your fault and even if it is, it's not the end of the world.
That is one of the themes in the new book, CROSSING THE DEEP (Astraea Press). In it, Rachel Harker's life pretty much stopped two years ago when her father died. She blames herself for it (maybe for good reason… maybe it was just a coincidence), and can't forgive herself for it. While on the hike with her church's youth group, she sees a sign for Harker Cemetary. The lure is too much for her since she needs a connection to her past. That act cuts her off from the rest of the group and sets in motion a four day nightmare in the woods, stuck with Asher Jenkins, a guy she barely knows.
Rachel has to decide if she can let go of her past in order to have a future.
What about you? Is there something in your past you are hanging on to? Can you let it go? Pray about it. Extra baggage weighs your shoulders down, but when you are free of it, you walk straighter—less heavy.
Big, huge thanks to Kathy for having me here today... And for being my cheerleader and book 'editor' Love you :)
J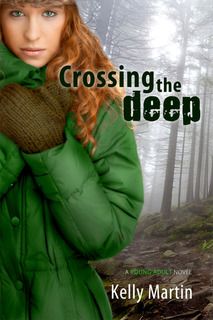 Sixteen year old Rachel Harker expects the church sponsored hiking trip in the Smoky Mountains to be short and painless. Four days later, injured and scared, Rachel prays to just make it home alive.
Asher Jenkins, fellow hiker and handsome skeptic who is only on the hike so he doesn't have to go home and face his abusive 'uncle', finds Rachel in the woods and tries to get her back to Deep Creek Trail. A small hole hidden under the fall leaves causes her ankle to twist and forces Asher to leave her to get help. As night falls, he comes back, unable to find the right trail.
As hours stretch into days, an unexpected rainstorm bears down the mountain, flooding Deep Creek and cutting off their way home. Rachel puts all of her faith in God to save them. Asher thinks believing in God is a waste of time and does what he can to prove to Rachel that He doesn't exist.
With their food gone and the temperature dropping, time is running out. Will Rachel be able to do what needs to be done to get home? And can Asher find faith when he needs it the most?
Kelly Martin is a writer, blogger, mommy, teacher, wife, sleep deprived lady (not necessarily in that order). She writes young adult/Christian fiction. Her second book, SAINT SLOAN, is coming late winter 2013. For more information on her, please visit her blog at
http://www.kellymartinstories.com/
BUY LINKS:
amazon.com
barnesandnoble.com
astraeapress.com
Reply to: Reply to Kelly M